Welcome to
A1 Active Care
A1 Active Care is a top-tier provider of in-home care services for all your personal home-making and nursing service needs. We understand that as patients, you would want to ensure that your decision to stay at home is really the right choice to make. You want to make sure that you are provided with all the support that you need to be able to live a happy, comfortable, and independent life. You get to recover and spend your days at home rather than be away from your family.
We can very well be your dependable partner in making your senior years or health management more meaningful and blissful, while in the close company of those you love. Through your determination and our service dedication, we will make your home-stay not just the right decision, but one of the best ones you have ever made. Choose A1 Active Care today!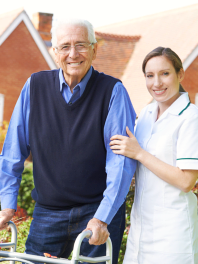 Our Mission
Statement
We are committed to partnering with patients and families in ensuring a safe, healthy, and happy quality of living at home through our reliable services and professional healthcare providers.