Welcome to
A1 Active Care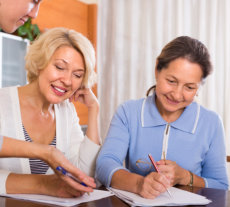 A1 Active Care creates personalized care plans which provides specific actions to meet your personal care needs in staying safe, and comfortable in your home.
The services that we offer here at A1 Active Care include the following but are not limited to:

Skilled Nursing Care. We provide the utmost convenience for patients at home by delivering hospital-like services through our skilled nurses. Our skilled nurses can perform tasks like monitoring vital signs and health status, assisting in medication administration, mobility assistance, IV therapy, colostomy care, wound care, case management, catheter care, nutritional management, and home safety assessment. They can also provide training and education to both patients and family members on how to manage and perform some of the tasks above.
Personal Home Care. Our certified nursing aides help patients enjoy more independence by providing them with assistance in doing daily tasks of living. We can assist patients in mobility around the home, transfers, maintaining proper hygiene and grooming, going to medical appointments, meal preparation, feeding, medication reminders, ambulation, and light housekeeping. We put full importance to senior's and patient's safety even while allowing them to participate in some of these tasks. Our caregivers are highly skilled to strike a great balance between care, safety, and empowerment.
Companion Care. We provide companion care services. We have companion or sitter services, accompaniment to medical or personal appointments, meal preparation, light housekeeping, and engagement in conversations and other recreational activities. Our non-medical companion care service ensures that patients are provided with socialization and supervised activities. Our sitters can go to hospitals, assisted living facilities, Rehabilitation facilities or at home.
Alzheimer's or Dementia Care. We provide support for patients and families who need help in caring after a loved one with Alzheimer's and Dementia. Our care providers have had years of training in assisting patients establish routine, manage hygiene, maintain proper grooming, and get their needed medication and nutrition.
Hospice Support Care. We provide care assistance to patients and families who have a family member with a terminal illness. We can provide respite care and follow physician orders, so patients can live dignified and comfortable despite their condition. We also give them assistance in properly coping with their disease and provide loved ones with support during their time of bereavement.
Transitional Care. We provide transitioning care for patients who are planning to go home from a long hospital stay due to an illness, injury, or operation. We provide for home readiness and safety assessment, personal care, nursing services, companion, respite care and much more.
With A1 Active Care, we make sure that clients are aligned with the care they need at home through a free client assessment by our registered nurse. We provide services to our patients in home, assisted living, hospitals and nursing homes. Please call us at 678-230-7095 for more information today!